Fastener/Stiffener Installation
Post-Finishing Services for Architectural Metal Finishing Customers
At Certified Enameling, Inc., we have been setting the standard in the architectural metal finishing industry since 1953. We are known throughout the Southwest and nationwide for the many services we offer and our commitment to excellence in quality, turnaround time and service. One of the things that we do to provide outstanding service is to install, at your request, fasteners and stiffeners to the architectural pieces that you send to us for coating.
TO VIEW THE WIDE ARRAY OF LARGE JOBS WE HAVE COMPLETED, CHECK OUT OUR PORTFOLIO OF WORK.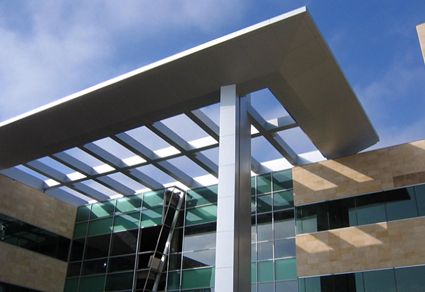 When appropriate and when requested by our clients, our skilled production crew will take the time to install any necessary components that will help to strengthen and stabilize the pieces that we work on. A common example of this is when we apply Kynar® or another type of metal finishing product to a set of decorative architectural panels. The customer may ask us to install fasteners to attach the finished panel to a bracket or another element of the structure after we have completed the painting stage of the project. Similarly, our customers sometimes ask us to install stiffeners on the edges or corners of the panels, or anywhere else that they will assist in the straightening of the panel after finishing.
We Treat Your Project as Our Own
When we receive a set of panels or other architectural elements for a coating job, we look at the big picture and consider what types of challenges that our client may be facing in the project. That is why we go out of our way to help in every way that we can. In addition to installing fasteners and stiffeners, we also apply masking prior to painting, as well as using jitterbug finishes and hand preparation to ensure the optimum bonding of the coating product.
To learn more about our services and how we can help you get your project done on time, contact us at (323) 264-4403 and request a quote.
You guys are excellent! I never write letters, but today I felt compelled. - ROGER D.

Thank goodness we assembled a good team. - BOB

I can't thank them enough! - JERRY C.

Thank you for being such a strong business partner, and helping CPS achieve our goals. - WITHHELD

I'm just not going anywhere else anymore. Thanks Certified Enameling. - DAVID D.